Safe at Home Game co-founders, families, and friends celebrate as C.J. Stewart receives coach of the year award.
Congratulations to L.E.A.D. Co-founder and CEO C.J. Stewart for receiving the 2019 Brian Snitker Award : : APIVEO Youth Coach of the Year, sponsored by Akins Ford Chrysler Dodge Jeep Ram!
CJ Stewart accepted the coveted award with humility "on behalf of tens of thousands of black youth males in the inner-city of Atlanta that need baseball to be used as a vehicle to help them overcome three curve balls that they face daily: crime, poverty, and racism." He also "accepted the award on behalf of hundreds of young men and young ladies across the country of varying races and skill levels that I have had the honor and privilege of providing the blueprint of success for byway of Diamond Directors Player Development. You have coached me on how to coach."
Prior to Coach CJ accepting the award, his daughter, Mackenna presented as the February 2015 APIVEO Player of the Month. She is following in her dad's footsteps as an inspiring leader and a great speaker. Also presenting were January 2016 APIVEO Player of the Month recipients Anthony Daniel Jr., who shared his thoughts on Coach CJ and the award and led the opening prayer and Andrew Fleming, the April 2018 APIVEO Player of the Month, who spoke about the influence of a coach in a kid's life.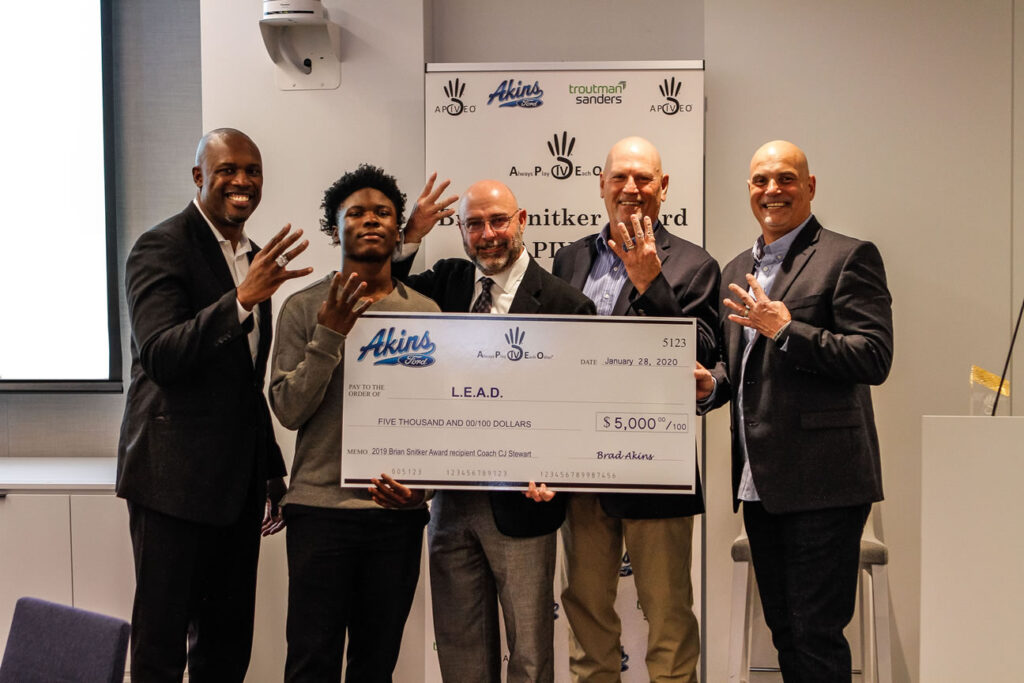 As part of the award, its sponsor Akins Ford, provided a $5,000 donation to L.E.A.D., an organization that Coach CJ and his wife, Kelli Stewart, co-founded and operate together.
APIVEO's co-founder and Executive Director, Brad Jubin on Coach CJ Receiving the Award
"Coach CJ is the epitome of what the award represents and is most certainly cut from the same coaching cloth as Coach Brian (Snitker)."
Upon receiving the award "Coach CJ delivered a moving speech recognizing the people that have played a role in shaping the man he is today. Humility, accountability and accomplishment are the hallmarks of Coach CJ's coaching style and beliefs. Coach CJ could actually retire tomorrow as one of the most impactful coaches in the history of Atlanta; however, Coach CJ has only just begun…stay tuned for even bigger things in the months, years, and decades to come!"
One on One with Brian Snitker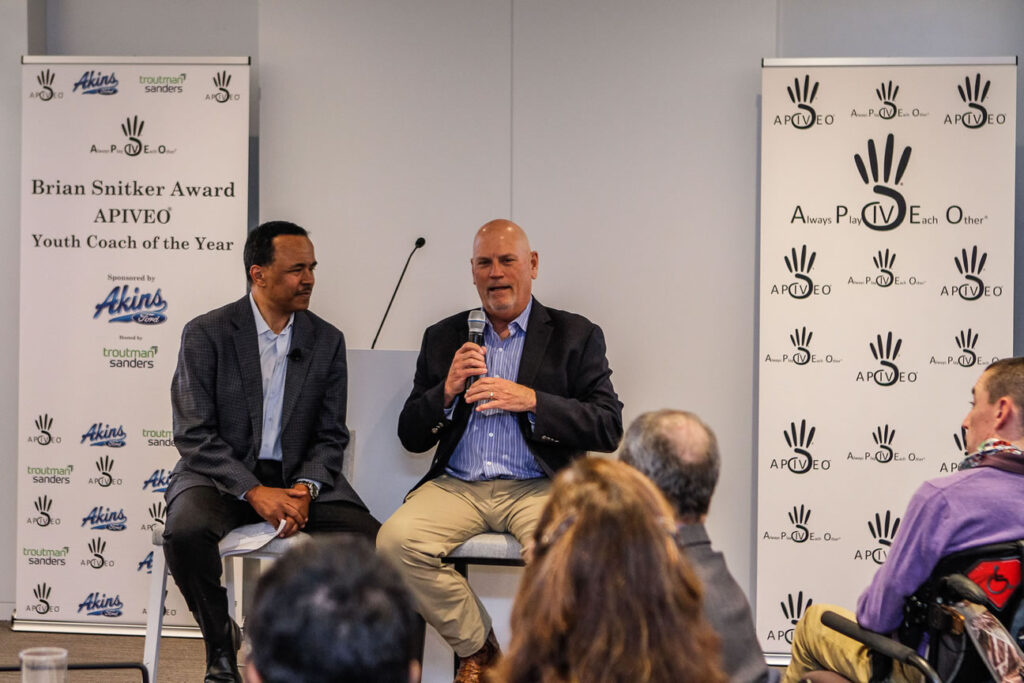 Veteran Emmy award-winning TV anchor, Larry Smith and Atlanta Braves Coach Brian Snitker sit down before the APIVEO Youth Coach of the Year presentation to Coach CJ for a friendly Q&A chat.
Brad Jubin on Impetus of The Brian Snitker Award :: APIVEO Youth Coach of the Year
"The Brian Snitker Award : : APIVEO Youth Coach of the Year was inspired by the commitment Atlanta Braves​ Coach Brian Snitker has to his players and the dedication he has to build relationships with them, and among them, that go well beyond the game. This award was conceived the moment Coach Brian said, 'He's my kid, I'm going to protect him!' after Ronald Acuna Jr. was hit by a pitch in a game in Atlanta. The recipient of the Brian Snitker Award : : APIVEO Youth Coach of the Year is a coach that intentionally strives to protect, serve, love and develop their players as if they were their own kids. To lead is to love and to love is to serve. "
Special Guest and Presentation – Ian X. Ross Presentation to Ronnie and Brian Snitker
Ronnie and Brian Snitker often go out to the Field of Hope in Peachtree City to visit and play a little baseball with the kids and families of the Peachtree City Little League Challenger league. Ian X Ross​, is a player in the league as well as a talented artist and extremely brave individual. He painted a picture for Ronnie and Brian Snitker as an expression of gratitude for their support of Ian and his friends. Ian bravely lives with cerebral palsy and uses his talent to help raise money to address the needs of others with cerebral palsy. Ian reminded us that "relationship" is the most powerful and important part of "leadership." The APIVEO board of directors made a $250 donation to United Cerebral Palsy​ in honor of Ian's leadership.
A Memorable Awards Celebration hosted by Troutman Sanders on January 28, 2020
About L.E.A.D., Inc.
L.E.A.D. stands for Launch, Expose, Advise, Direct. It is a 501 (c)3 nonprofit organizationoperating in Atlanta, Georgia. Its mission is to empower an at-risk generation to lead and transform their City. Through year-round Pathway2Empowerment Programming, LEAD is inspiring and equipping young, Black males to earn positions of leadership in business, education and government in Atlanta and beyond.
About APIVEO
APIVEO® stands for Always Play IV Each Other™. "Always Play IV Each Other®" is a commitment to intentionally use your gifts and talents to help others. When you're not first…you always win.® Its mission is to have a positive long lasting impact on youth. It strives to empower youth coaches by giving them simple, positive and age appropriate life and leadership lessons to share with their team. Its commitment is to provide fun and engaging materials for coaches, players and parents through our website as well as live clinics and seminars.
Photo Credit: Jeff McPhail and Madison Jubin